Video Crew Frankfurt in November is planning to cover the "Vision Stuttgart" exhibition.  The "Vision" is the world's leading exhibition for image processing, which takes place every two years. This year it will be held for 3 days between November 6-8.
It is a hub of the image processing industry. The "Vision" is the most important marketing tool to introduce the latest innovations and developments in the field of industrial image processing. The exhibition offers products from sensor to processor, from cables to camera, from software to lighting. Full image processing systems and application-specific solutions for the different industries complement the trade fair offer. The main event of the "Vision" is the forum "Industrial Vision Days". It is a technology forum, that is considered the largest forum with panel discussions on the topic of image processing worldwide. Industry insiders from industrial companies, institutes and other research institutes present their latest findings and developments of the industry and set trends for the future.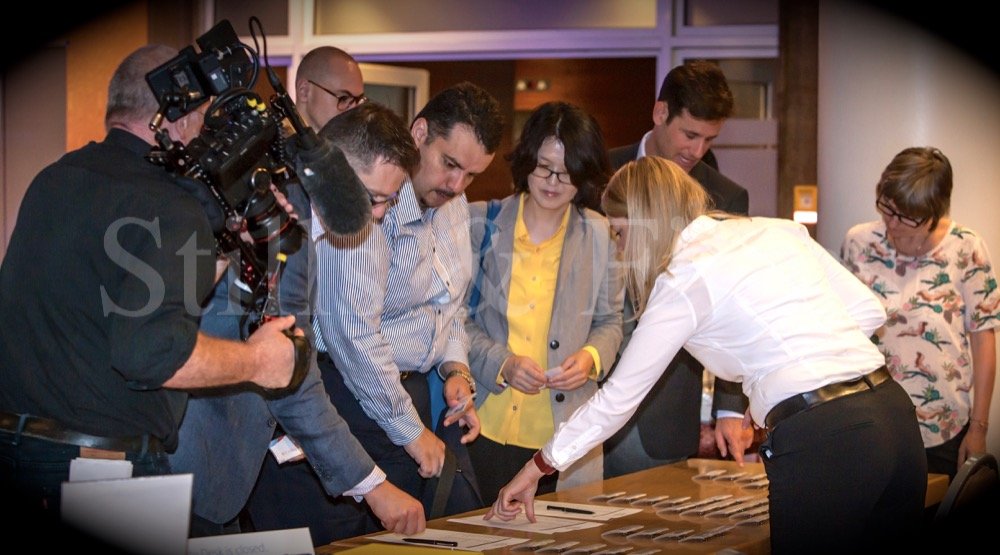 Video Crew Frankfurt's Gear
Our Frankfurt video crew will be equipped with Canon C300 Mark II. camera kits. For clients wishing to use Sony cameras we can offer the Sony FS7 camera kits. Both cameras are capable filming in 4K. The Canon C300 Mark II is bit more artistic in looks, while the Sony FS7 has a more video look. We do not cut corners (hint: cheap productions do) we will use both camera types only with professional cine lenses (and not cheap photography lenses).
For sound, we'll be using field mixers from the industry leader Sound Devices, the Sound Devices 633  mixer/recorders, Sennheiser booms (MKH416) and Sennheiser AVX digital wireless kits. Interviews will be lit with KinoFlo Diva light 401 sets and Fomex FL 1200 flexible led lights with some additional Dedo accent lightings.
To spice up images, we can bring to the shoot a ProSup Tango Roller professional slider and a Letus Helix Junior magnesium gimbal with a smaller 4K Canon camera, the Canon XC 10.