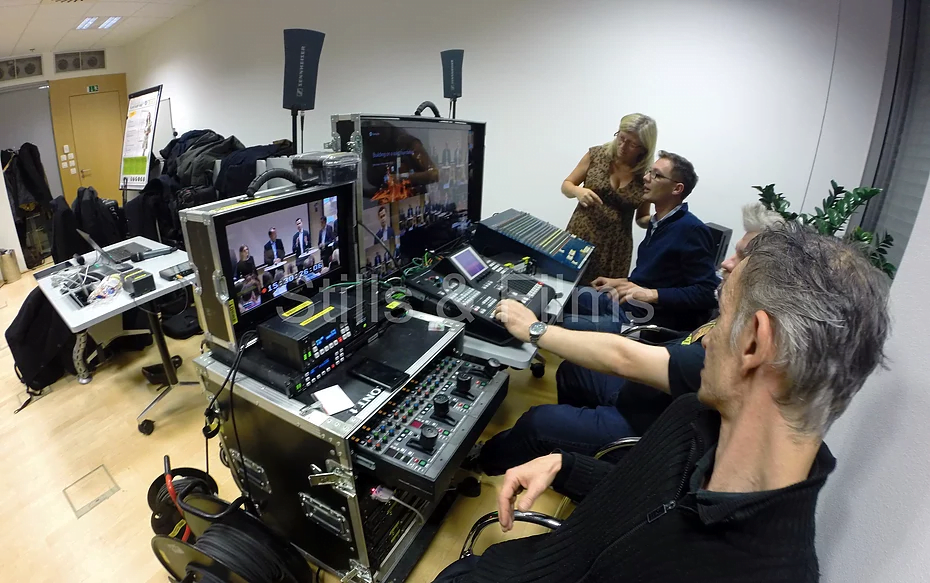 Run into a short blog post by a German media company saying "We had the pleasure of facilitating AT&T's first live international Webcast from their facility in the beautiful city of Bratislava. We had a mixed crew from our production partners based both Vienna and Cologne, Germany. A lot of logistics and even more cabling…"
Obviously AT&T got some money to burn, flying in crews from Germany & Austria, paying for airline tickets, extra luggage, hotels and meals at least for 3 days (flying in, action day + a day flying back to base).
AT&T, this to let you know, that you could have done this just in 1 day with our Bratislava based crew & paying much, much less for the whole gig. As it did in the past Swiss banking giant "SwissRE" or the US based "United Technologies" from the aerospace &  defense industry. Pictures showing our portable camera chain system in action.
The system is completed with portable master control unit and up to 5 x Sony PMW 350 XD HD cameras for conference and event coverage.
Our solution is very compact, there is no need to hire big OB-s or running tons of video cables trough windows and door sills. All the gear is packed into flight cases on wheels, so we can just roll them in and set them up in a matter of minutes. After connecting the cameras – all on rolling dollies – we are ready to go within 1 hour with the project.
The master control unit can record each camera footage separately or we can edit the pictures on the fly to give a completely edited program
to clients.